Apple's iBeacon to improve the shopping experience at Apple Stores
22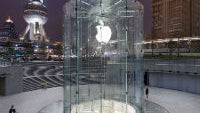 Apple is about to enhance your shopping experience at brick and mortar Apple Stores. The Cupertino based tech titan is about to install iBeacon transmitters on the tables and shelves at its stores. With the iBeacon in place, those walking into an Apple Store with an iPhone or iPad will be able to sidle up to an accessory and see additional information about it on their phone, including features and pricing.
Someone could walk into an Apple Store, head over to the iPads, and find out that a workshop about the slate is being held soon. To be able to receive these messages, your Apple iPhone or Apple iPad must be updated to iOS 7, supporting Bluetooth 4.0. And the alerts can be disabled if you don't want to receive them.
Apple has some other plans for the iBeacon technology. It can help those waiting inside the store for their Genius Bar appointment get an alert when it is their time to be seen. It can also broadcast a special deal to those waiting inside the store. And in testing is a way for those who happen to be near the vicinity of an Apple Store, to be alerted when a device brought in for a repair is ready to be picked up.
If you have the soon to be updated Apple Store app installed on your device, your presence inside an Apple Store is already known. But iBeacon can improve location information. In fact, with speculation that the next version of iOS will include indoor mapping of stores and buildings, this is something that iBeacon will play a role in. Major League Baseball's New York Mets tried out iBeacon at CitiField this year. Users of the
At the Ballpark
app had their tickets displayed on their iPhone as bar codes while showing a map of where the seats were located. The entire experience, which included information about CitiField, also included coupons for Hot Dogs and soda. More teams are expected to launch the service next year.
iBeacon uses Bluetooth LE, the low energy version of Bluetooth. Because it uses short range signals, it makes it easier for your phone to know exactly where you are when within the range of a particular beacon.
Apple's iBeacon can help shoppers at the Apple Store discover more information about their products
source:
AppleInsider