Apple's hush hush design studio and CEO Tim Cook star tonight on CBS-TV's 60 Minutes
10
Following all of the football games that you're no doubt watching today, you might want to tune into CBS' weekly news magazine
60 Minutes
. Even if you usually avoid the show like the plague, tonight's broadcast might hold some interest for you. At 7:30pm EST tonight (check your local listings for the actual broadcast time in your area), 60 Minutes will play an interview with Apple CEO Tim Cook.
Apple's secret design studio will also be part of a tour of the company, and we should see Apple design chief Jony Ive discussing how Apple produces some of its most popular devices. A picture released by 60 Minutes shows the design lab with black cloth draped over some of the work-in-progress that just might turn out to be tomorrow's next big hit out of Cupertino. We also will get a preview of the new design for the Apple Store directly from the company's retail chief, Angela Ahrendts.
A video released by CBS in advance of the airing shows Tim Cook aggravated about having to defend Apple from "political crap." What he is referring to are charges that Apple doesn't pay taxes on its $74 billion of international revenue. "Apple pays every tax dollar we owe," the executive says. "We pay more taxes in this country than anyone."
Another videoCook also addressed those who call for the iPhone to have a back door that would reveal information to law enforcement officials and the government. Cook noted that if the iPhone includes a back door, it would accessible by both good guys and bad guys.You can check out a clip of the CEO's interview by clicking on the video that tops this story.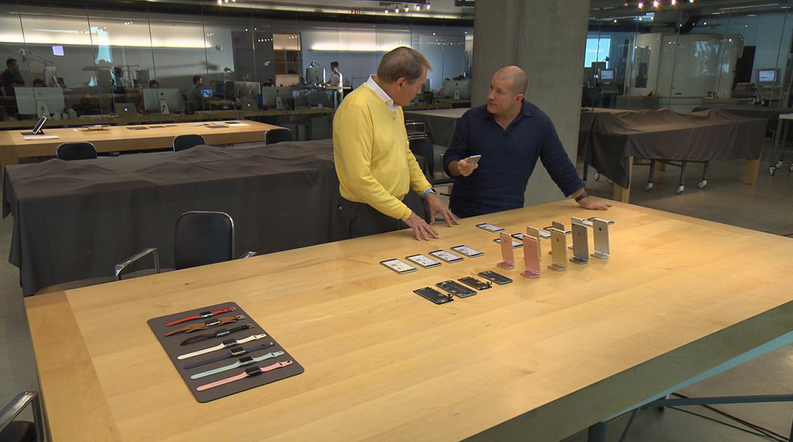 Jony Ive talks about Apple's popular devices on tonight's 60 Minutes broadcast on CBS
source:
CBSNews
via
Engadget