Apple's firm stance forces Unicode to remove the rifle emoji for 2016 consideration
48
As a member of the Unicode Consortium, the group in charge of making decisions about which emoji are added to the "official" list every year, Apple has influence in this arena. According to one source familiar with the situation, the tech titan pushed hard to have the rifle emoji removed from the 2016 list of candidates. By a unanimous vote, the Unicode Consortium agreed. There will be no rifle emoji in 2016, although a pistol already exists.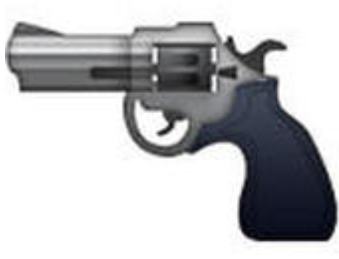 A pistol is already part of the emoji list
While Unicode gave no reason why it decided to remove the rifle emoji from consideration, it wouldn't be a stretch to consider that this was done in response to the latest terrorist attack in the U.S. That took place nearly a week ago when ISIS supporter Omar Mateen killed 49 people at a nightclub in Orlando. The horrific nature of the crime would seem to be a good reason why Apple used its weight inside Unicode to remove the rifle emoji. The tech giant reportedly said that it would not support such an emoji on its platforms.
In less than two weeks, Unicode 9.0 will be released. Earlier this month,
we showed you what some of the new emoji are expected to look like
. The rifle appeared as part of a set of Olympic themed emojis including ones for Fencer, Water Polo, and Boxing. As one Unicode member said last month, "In a weird, maybe almost unexpected way, emoji thrusts Unicode into contentious political and religious discussions."
source:
BuzzFeed
via
CNET