Apple's chassis maker hints at a much tougher alloy for the iPhone 6s design
36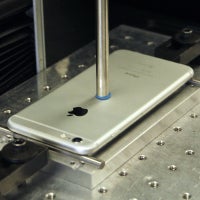 The new
Galaxy S6
and
S6 edge
use a grade 6013 aluminum alloy, while most other smartphones, including the iPhone 6/6 Plus, make do with a derivative of the inferior 6063 grade, which fact was used in one of the more scientific explanations about the 6 Plus
#bendgate
phenomenon.
While 6013 is not the highest end 7075, it is in-between, and is still used to make things that need to be light and durable, like plane fuselage, cars, yachts, mountain bikes, and so on. In fact, the 6013 aluminum is 1.5 times stronger and 1.2 times more scratch-resistant than the type of aluminum used in the current iPhones.
That is all about to change, though, judging from a slip-of-the-tongue remark by
Catcher
, one of the leading producers of metal chassis, which is also
behind HTC's renowned unibody designs
, for instance, as well as the thin and light bodies of the iPad line. Catcher Technologies' Allen Horng revised the company's outlook for next quarter from flat to upward, citing new orders for smartphone and notebook chassis: "
Thanks to the smoother production and strong orders for metal casings for new projects, we now forecast the next quarter will be better than this quarter
."
Wait, "new" projects? With most flagships already announced, Mr Horng might very well be referring to the
upcoming iPhone 6s and 6s Plus
, which, if all goes as usual, should be entering their final production preparations as we speak. Adding water to that particular rumor mill is the fact that Catcher's CEO reported about issues with scaling an innovative process for one of its smartphone clients, which involves "
a surface treatment on a harder metallic material [that is] is more difficult than traditional metal-casing processes, and would lower the yield rate at the beginning of the production cycle
."
Lo and behold, what could that be? Could it be that Apple might be using the top-shelf 7000-series aluminum for the chassis of the upcoming iPhones this time, as
speculated before
? It might, as the 7000-series qualifies for that same "harder metallic material" that Mr Huang is worried about. For the curious, 7075 aluminum has zinc as the primary alloying element, and is used in bikes, inline skating frames, climbing equipment, and even the M16 rifle, due to the fact that it has almost the tensile strength of steel, while remaining very light and durable. If Catcher is indeed using it to polish Apple handset chassis units, the iPhone 6s and 6s Plus might be one of the toughest aluminum unibody phones made to this point, beating the Galaxy S6 in the process.