Apple's 'camera kill switch' patent enrages rights groups
18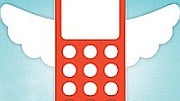 We told you a few days ago about
Apple's patent filing
, in which a coded infrared transmission could disable your iPhone's camera. That could have a number of applications. Considering Apple's unique relationship with record companies, the primary use would be to prevent photos and video recordings of live concerts.
But the Save the Internet coalition has penned an open letter to Steve Jobs, discouraging the implementation of such a device. And they bring up some solid, albeit dramatic, points. Referring to the heavy use of cell phones in recent revolutions around the world, they point out that
"This technology would also

give tyrants the power to stem the flow of protest videos

and crack down on their citizens with impunity."
In general, however,
"it would give tyrants and companies the power to silence one of the most critical forms of free expression."
Like we said, it's a little dramatic. And, ideally, Apple would be able to control who had access to the coded infrared device, limiting its oppressive applications.
But there are everyday situations in which the kill switch could be a problem. What if someone is assaulted at a concert, and no one is able to photograph the assailant for evidence. Some of us use our iPhones to take videos of concerts, and then violate their copyright by posting them online. But the majority of us depend on them for far more, be they photos of our puppy or videos of a national revolution.
source:
Save the Internet
via
TUAW