Apple's big push with the iPhone 5 could be NFC and mobile payments, Visa and MasterCard all cheers
11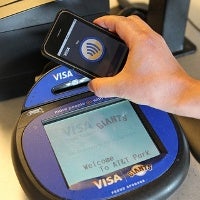 The rumors about
Apple's next iPhone including NFC and a heavy push into mobile payments
subsided when the iPhone 4S was unveiled, alongside many other whispers, but are now been resurrected again as we head into this year's iPhone expectations.
Apparently Apple's iOS software engineers are involved in NFC support development, and app makers in the know are creating mobile payment apps themselves, to be ready when the NFC-equipped handset hits.
Still, if this thing is about to take off, it will need the support of a large payment processing company, like Visa or MasterCard, since we saw what happened with
the carrier-backed ISIS system
, whose aspirations were scaled back significantly, when it became clear it can't fight those two payment behemoths and their own mobile payment plans.
When asked whether Apple is working on a contactless payment system of its own, MasterCard's Ed McLaughlin said yesterday: "
Um, there are...like I say, [I don't know of] any handset maker out there. Now, when we have discussions with our partners, and they ask us not to disclose them, we don't
". Answering whether Apple's foray into this market will facilitate the mobile payments take-off, he added: "
Well, anytime someone with a major base moves forward, it advances what you're doing. So of course.
"
Visa, on the other hand, was not so subtle in its answers recently: "
I can't tell you when Apple is going to put NFC in the next version of the iPhone,
" said Bill Gadja, the head Visa's Mobile Product department, "
but we've had discussions with them around the PayWave standard and they've asked to look at our specification and certification process so that when they decide to do something those lines of communication are open.
"
Putting two and two together, Apple's next iPhone iteration, except the year-old rumor of a major redesign in comparison with the 4S, could also "revolutionize" the mobile payments by bringing it mainstream, the way it is altering the perceptions about voice command software with Siri.
source:
9to5Mac
&
Fastcompany