Apple's back-to-school sale is likely to begin next week
16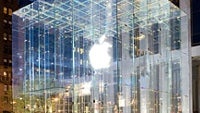 Apple is holding company-wide meetings at their retail stores this Sunday, starting at 7 a.m. And the topic of the meetings is anyone's guess. They've been gearing up for
an announcement
of some kind, setting longer hours for redecoration, and shrouding the new visuals with black curtains.
But the mysterious announcement may simply be their back-to-school sale. Previous back-to-school sales have been announced between May 25 and June 5, so it wouldn't be a stretch. Unfortunately, their 'sale' is really more of an opportunity to offload aging iPod Touch devices. In past years, they've offered a free 8GB iPod Touch to purchasers of a new Mac. Maybe this year they'll offer a discount on the
iPhone 4
or
iPad 2
?
We're still hoping that all the secrecy, combined with Apple's May 19th retail anniversary, mean that we're going to see a new product. But that could be anything from their
iCloud
music service, to a new device.
Slash Gear
suggests that it might not be a new product at all, but the unveiling of NFC-enabled registers. We're hoping for something a little more exciting.
source:
AppleInsider
via
SlashGear