Apple's Reuse and Recycling programs can offer you up to $320 for your old iPad 2
5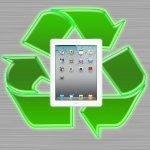 Already, we gave you all
5 solutions of what to do with your old iPad
if you're considering buying the new one. Of course, one of the options is to sell the tablet back to one of those buyback programs out there, but if you prefer dealing with
Apple
, you ought to consider its
Reuse and Recycling program
.
Honestly, you might also want to do some comparison shopping for what you can fetch for your iPad 2 – well, that's because the money might not be enough for some people to accept. Currently, Apple's Reuse and Recycling program, which works in tandem with trade-in partner
PowerON
, can give up to
$320
for a near perfect condition 64GB 3G enabled iPad 2 with no "
light to moderate scratches or scuffs on either the display or case
." And of course, it shouldn't have any cracks, bumps, bruises, or water damage of any kind to get the maximum value.
$205
. Interestingly though, those with an
engraved
iPad 2 will sorely be smacking themselves because the engraving actually lowers its cost. Yeah, it's a nice personal touch and all, but we're certain that the next owner won't find much use or meaning to it. In fact, the same 64GB 3G iPad 2 with an engraving will net you $140 less at a pitiful
$180
!
Much like other buyback services, PowerON will provide all of the shipping and handling cost, but in the end, you'll simply receive the value in the form of an
Apple gift card
, which of course, you can turn around and use to buy a new iPad.
source:
Apple
via
SlashGear