Apple's R&D spending skyrockets 40% in fiscal 2012, still 2% of sales
30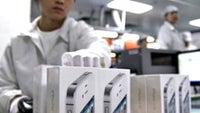 Apple is notorious for making very focused Research&Development decisions, which keeps this part of its costs times less than the competition like Google or Microsoft.
Yet with one of the largest upgrade cycles it has had so far, its fiscal year 2012 saw R&D investments surge 39% to $3.4 billion, compared to 2011. For that billion more, Apple launched am iPhone design overhaul, and entered the small tablet game, not to mention the Mac line refresh, as well as the numerous other projects that might be in the labs at Cupertino.
The sum still pales in comparison with what Microsoft spent, about $9.8 billion, or Google's for 2011 at $5.2 billion, yet Apple's R&D expenses as percentage of sales stayed the same at just 2%, indicating a pretty good return on investment from those efforts.
Of note are Nokia's R&D layouts, too - the company spent $7.3 billion, or 14.5% of its sales last year, in the push to restructure and change direction at the company. We'd call it money well spent, too, not for the bottomline, but for the technologies that brought us the
Lumia 920
and
808 PureView
, which are pushing the smartphone camera boundaries big time.