Apple's Passbook cards can now be used in Windows Phone 8.1
1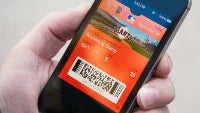 Apple's Passbook is a pretty useful app which can be used to gather various items like tickets, coupons, boarding passes, loyalty programs, and other cards. You would expect that since it was an Apple product, it would be proprietary, but it seems that Microsoft has been able to reverse-engineer the feature and add Passbook support to Windows Phone 8.1.
The general idea isn't all that difficult to sort out. Passbook cards simply use sets of data to generate your ticket or coupon or whatever. Google does something similar with tickets that you have in your email. The tricky bit is that Apple has a code-signature on Passbook files (which is that proprietary bit that you would expect), and it's unclear how Microsoft is dealing with that signature. It could simply be accepting that certificate, or ignoring it all together. However Microsoft is doing it, you can import Passbook files into Microsoft Wallet, at least for now.
The "at least for now" bit is really the important part. Apple doesn't play well with others, and it is protective of its products. Apple doesn't make cross-platform products, it makes Apple products. So, while Passbook works in Microsoft Wallet right now, don't be surprised if it stops working at some point.