Apple's Oscar ad voiced by Martin Scorsese, shows students filming movies with the Apple iPad Air 2
17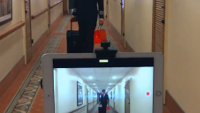 Apple will be debuting an ad tonight for the
Apple iPad Air 2
. The ad features a voice over from famed Oscar-winning director Martin Scorsese, which makes sense since the ad will be seen during tonight's telecast of the Academy Awards. The commercial opens with a blackboard that reads "
Make a film with iPad. Due this Monday
."
If it sounds like an assignment for a class, it absolutely is. The commercial shows student filmmakers who attend the Los Angeles County High School for the Arts. Using the Apple iPad 2, these students wrote, directed, filmed and edited three separate projects. Apple provided the hardware and all three films were actually shot using the tablet.
While we see the students at work, Scorsese's 2014 commencement speech to the NYU Tisch School of the Arts is heard in the background. Last year, Samsung captured everyone's attention during the Academy Awards by giving out the
Samsung Galaxy Note 3
to several stars, including host Ellen Degeneres. A selfie taken during the show by Ellen and her Galaxy Note 3
became the most re-tweeted message in history
, and led to an amazing amount of publicity for Samsung. Perhaps Apple will get the attention this year thanks to this commercial. Check it out by clicking on the video below!
source:
Apple
via
AppleInsider