Apple's "Lucky Bag" promotion draws crowds in Japan
2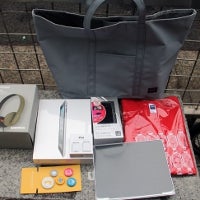 "Lucky Bags" is a Japanese New Years Day tradition, where you get a bag from a retailer for a fixed price, which contains any number and type of discounted items. This year's Lucky Bag from the Japanese Apple Stores has had people waiting in huge lines in the rain and the cold, in order to snatch what's inside, and hope for getting the winning ticket.
Indeed, some bargain-hunters around the country are reporting they got cool items in this year's Apple Lucky Bag, which in a few cases were worth way more than the fixed 33, 000 yen (~$430) price that the bag costs. Chief among them was a guy who scored an 11" MacBook Air, saving $500, but a number of people got iPad 2s too, along with other goodies in the bag, like an iPad Camera Connection Kit and headphones. One of the iPad 2 holders is shown in the Lucky Bag 2012 video below.
This Lucky Bags thing sounds like such a cool idea, that we are surprised US retailers haven't introduced it yet. You get both your shopping and your gambling fix in one bag for at "prix fixe" - Americans could certainly see the value in that. Plus, when you go holiday-broke from all the tech shopping, you are always left holding the bag.