Apple's App Store's 5th birthday nets Infinity Blade 2 millions of new users
3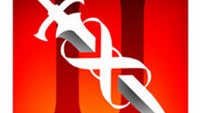 Last week, Apple's App Store reached its
5th birthday
, and in celebration Apple made 5 popular apps and 5 games free for users. One of those games was
Infinity Blade 2
, which went from costing $6.99 to being free, and that led to some huge growth for the game. According to a representative for the developer, Chair Entertainment, the promotion has led to millions of new users for
Infinity Blade 2
as well as the original.
On the first day of the promotion alone,
Infinity Blade 2
saw 1.7 million new users download the game, and estimates say that so far the promotion has led to somewhere between 5 and 7 million new users who have downloaded the game. And, even though the game was downloaded for free, the game does include in-app purchases, so there is little doubt that Chair Entertainment has profited in this past week.
Even if you don't expect that all that many new users would buy anything with the in-app system, the promotion has also led to a spike in the original
Infinity Blade
downloads, and that game still costs $5.99. Supposedly, downloads of that game jumped 2.5x last week, and Infinity Blade: Awakening, a $2.99 e-book bridging the plots of the two games, also saw sales rise 70% last week.
Not a bad result from having your game promoted, eh?