Apple's App Store generated 85% more revenue than Google Play in Q1 2014
60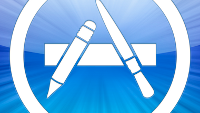 Remember the old days when
downloads from the App Store swamped those coming from the Android Market
? Those days are long gone, according to a new report from App Annie. Thanks to the amazing success of the Android platform, world-wide downloads from the Google Play Store during the first quarter of the year outnumbered those originating from the App Store by 45%. In the previous quarter, downloads from the Google Play Store had topped downloads from the App Store by 35%.
But when it comes down to money (doesn't everything?), the App Store is on top. For developers, that is the bottom line. For the period from January through March, the iOS application marketplace brought developers 85% more cash than the amount received by the code jockeys writing for the Google Play Store. Despite that large lead, the report states that the revenue gap between the two rival platforms decreased in areas like the U.S. and the U.K. During the first quarter, Google Play revenue soared 55% in the U.S. sequentially, and by 25% in the U.K.
Meanwhile, Google depended heavily on emerging markets for its lead over Apple in app downloads. That makes sense since low priced Android phones outsell the iPhone in those areas. In China, where the Apple iPhone is now available from the world's largest carrier in China Mobile, app downloads soared 70% sequentially.
As you would expect, games represent the top category of apps being downloaded. Three out of every four apps downloaded from the App Store is a game, and that percentage is even higher for the Google Play Store, where a whopping 90% of apps downloaded are games. Messaging apps on both platforms received a shot in the arm from
Facebook's $19 billion acquisition bid for WhatsApp
. Bringing in revenue for Android developers was the Tools category, where fears of malware led users of Android flavored devices to purchase anti-virus apps.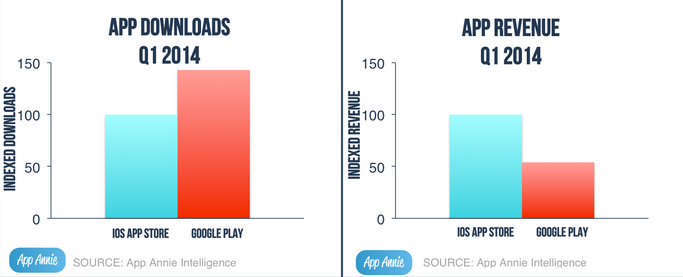 Google Play leads in downloads world-wide, the App Store leads in global revenue
source:
AppAnnie
via
PCWorld