Apple may release four iPhones this year, starting with an expensive SE 2 in June
27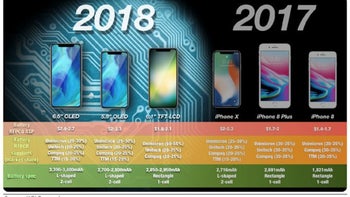 Despite all the rumors and
screen protector leaks
, the
iPhone SE 2
that is likely to be announced on Monday by Apple, is now tipped to just come with upgraded internals, instead of that whole notch redesign affair.
Granted, it's just a single supply chain source quoted, but this premise makes way more sense than the notch-y theory, as, first, a TrueDepth camera for FaceID is unlikely at the SE 2 price point, and, second, the phone is likely to be very small, so a "full screen" design will be an overkill anyway.

The insiders, however, are tipping that the
iPhone SE
2 may come more expensive than the current SE price point, which is explicable - the SE started at $399, and is now at $349, so the SE 2 may go back up to the $399 tag, but with a much higher amount of storage from the get-go. Given the latest pricing trends, though, even what will supposedly be the cheapest iPhone this year, may start from $449, too.
Pegged for release in June, shortly after Apple's announcement at the WWDC expo on Monday, the SE 2 is said to be just the first of four iPhones that Apple is expected to unveil this year. Next in line will be an
iPhone X
successor with 5.8" display, a 6.1" affordable iPhone, and a top-line
X Plus
with 6.4" screen, housed in the footprint of the current
8 Plus
, or smaller. That's quite the lineup, and, with hundreds of million users with aging iPhones, Apple will come well-prepared to take advantage of this tsunami of an upgrade cycle.