Apple was a heartbeat away from being forced to delay unveiling the Apple Watch Series 4 last week
7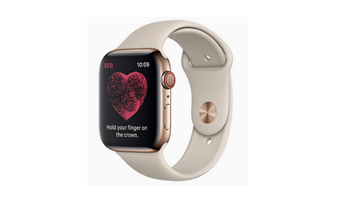 Last Wednesday,
Apple unveiled the new Apple Watch Series 4
during its "Gather round" event at the Steve Jobs theater in Apple Park. Besides the larger edge-to-edge screen found on the latest version of the timepiece, the new Apple Watch also comes with an electrocardiogram feature that nearly forced Apple to delay the introduction of the smartwatch. For as it turns out, the FDA didn't give the green light to the device's ECG capabilities until there were less than 24 hours remaining before the event was scheduled to take place.
No one would have been surprised if the heart rate monitor on Apple CEO Tim Cook's Apple Watch was spiking higher. According to a report published today, the FDA letters to Apple that essentially gave the Apple Watch's ECG feature the blessing of the agency, were dated September 11th; the unveiling took place on September 12th. With the letters in hand, Apple COO Jeff Williams was able to say at the event that the ECG technology on the timepiece had received de novo clearance from the FDA.
An electrocardiogram can detect irregular heartbeats, which is why offering it on a watch requires the approval of the FDA. According to today's report, the agency never looked at the ECG hardware before approving the feature. Based on the letters from the FDA to Apple, the thumbs up was based on examination of a pair of apps. The first app is named "Irregular Rhythm Notification Feature,"and alerts an Apple Watch wearer if his heartbeat shows a pattern seen in atrial fibrillation or another arrhythmia.
The second app studied by the FDA, "Electrocardiograph software for over-the-counter use" creates the ECG and displays an analysis that determines whether the ECG shows any signs of cardiac arrhythmias. The FDA makes it clear in its letters that the ECG on the Apple Watch is not intended to diagnose the wearer. The FDA also says that the feature should be used by those 22 years of age and older. The agency stresses that no "clinical action" should be taken based on the readings of the ECG on the Apple Watch "without consultation of a qualified healthcare professional." One worry that some have is that certain readings will make wearers nervous enough to make unnecessary visits to the doctor or the ER.
The FDA letters give Apple the approval to start marketing the ECG on the Apple Watch Series 4. Keep in mind that the ECG feature will not be on the watch when it launches on September 21st. ECG capabilities for the Apple Watch will be part of an OTA update for the timepiece that will be pushed out later this year. Meanwhile, if you can't wait, AliveCor has a Kardia Band for the Apple Watch that creates an ECG when the wearer puts his finger on a sensor pad found in the band.