Apple to merge with Disney? One analyst's pipe dream still sparks thoughts of "what if?"
17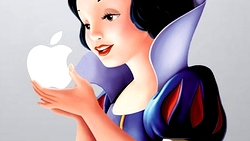 RBC Capital Markets analyst Amit Daryanani told clients in a note on Thursday that it would make perfect sense for Apple to use some of its large cash holdings to purchase Disney. While such a deal is highly unlikely, the analyst said that the president's proposed plan to have a tax repatriation holiday, during which overseas profits could be brought into the U.S. for a lower tax rate, could generate more than $200 billion for Apple to use in a transaction.
The analyst also pointed out that Apple has been unable to recreate the success it has had in music with iTunes. A deal with Disney could help it create a video version of iTunes. Darayani gave clients six reasons why Apple might buy Disney:
Accelerates AAPL's push into services and content.
Instantly leapfrogs Netflix, Amazon, and YouTube in content and resets the lead with content narrative.
AAPL has been unable to replicate its music playbook to video.
Iconic brand — there are few brands that AAPL could acquire that wouldn't dilute its iconic presence and customer relationships; DIS would clearly strengthen (and not dilute) the brand value.
Even using minimal cost synergy, we see the deal being accretive by 15-20 percent.
AAPL has been increasingly looking at larger deals and noted that services is a focus.
Apple and Disney are actually somewhat related. The entertainment firm's largest stockholder is not a Disney. It is the Steven P. Jobs trust. When Jobs helped arrange the sale of Pixar to Disney in 2006 for $7.4 billion, the all-stock transaction left Jobs with 7.7% ownership of the Mickey Mouse firm. It also left the DROID name in the hands of Disney. Which means that ironically, if Apple were to ever buy Disney, it will make money on the sale of every Motorola DROID branded handset.

But don't expect to read about this deal in the Wall Street Journal. Disney, which had to fight off a couple of threats to its independence in the 1980's, has no desire to belong to any other company. From Apple's point of view, this would be quite an expensive deal, even for a company swimming in cash. Assuming a 40% premium to the current valuation, it would cost more than $250 billion to buy Disney. Apple's largest acquisition to date was the $3 billion purchase of Beats Audio in May 2014.

source: CNBC