Apple to announce the iPhone 5 on September 7 along with the next generation of iPods?
18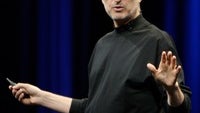 Boy, if we had a penny for every single iPhone rumor we came across, well, we would probably have one humongous pile of pennies right now. According to the latest one in the list,
the iPhone 5 or whatever is to be announced no later than September 7
, which is exactly when the next generation of iPods is expected to be unveiled.
After taking a quick look at our calendars we noticed that an official announcement date for the new iPod line is not marked yet. On the other hand, it has been said that the exact date of the event is coming from a well-informed source and is not a wild guess. Apple has been pretty strict with the announcements of every new iPod line as the events have always taken place in the first weeks of September. This year, however, as a new iPhone iteration was not unveiled at WWDC, seeing the smartphone on stage alongside the latest bunch of iPods is not out of the question.
Nevertheless, since we are swimming in
a sea of iPhone rumors
right now, we cannot really say that this one is any more credible than the rest. We shall file the claim under the "cross our fingers and hope it happens" tab for the time being.
source:
Kodawarisan
via
Mac Rumors
Recommended Stories