Apple to allow third party apps to run in background?
This article contains unofficial information.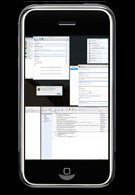 When iPhone Firmware 2.
2.1
was released, many noticed that the Push notification system announced by Apple at the WDC last Summer was absent. Steve Jobs said that the system was running late and it was pulled from the beta version. This prevented the iPhone from running third party apps in the background as the notification system was the way for the device to send notices to applications when they weren't the active app running. Back to the drawing board went the engineers from Cupertino and they developed another way for the third party programs to run with a user selectable background process. This would be expected to be made available on a iPhone 3.0 software update and would probably allow for only one or two programs running in the background at the same time. However, the next generation iPhone should allow for real multi-tasking, similar to the Pre and every other smart phone.
source:
MacRumors
via
Gizmodo