Apple surpasses Samsung in mobile advertising market share
41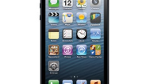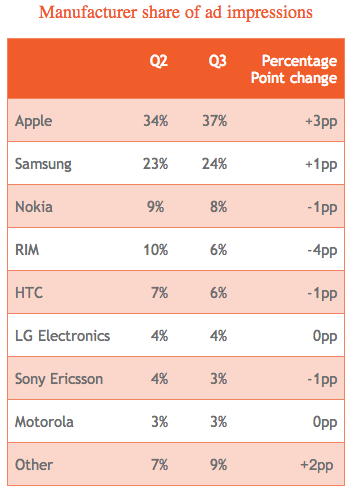 Apple leads all OEMs in ad impression market share
Based on Adfonic's Q3 report on the global mobile advertising industry, Apple
widened its lead
over Samsung based on the market share of ad impressions, even though the
Samsung Galaxy S III
leaped into the top ten list of impressions on an individual handset. Overall, Apple expanded its lead over second place Samsung to 13% from 11% at the end of Q2. Apple now has a 37% share of mobile ad impressions, up from 34% in the prior three-month period. Its Korean rival also had a gain in the quarter to 24% from the previous period's 23%. RIM was the big loser, dropping 4 percentage points to a 6% share of mobile ads and a tie for fourth place.
But those stats can also be divided up many other ways such as by region, or mobile platform and even by device. Globally, Android devices had
45% of the mobile ad market share
in the third quarter, followed by 37% for iOS and 6% for BlackBerry. Windows Phone held just .5% of the market. In North America, Android's lead over iOS was even wider as Google's open source OS captured 56% of the mobile ad market compared to 31% for iOS. In Asia, though, Android had 43% of the mobile ad market compared to 40% for iOS, And in South America and Africa, iOS was the leader in mobile ad impressions. In the former, 37% of mobile ad impressions were viewed over an iOS device compared to 32% on Android while in the latter country the figures were 29% to 16% in favor of iOS over Android.`
Globally, the
Apple iPhone
was the top handset for receiving ad impressions with 29.3% of the market. The next highest scoring handset was the
Samsung Galaxy S II
with a 4.6% share. And though it had just been launched before the third quarter, the Samsung Galaxy S III was an impressive sixth in the global ratings with a 1.4% market share. The
Apple iPad
dominated the tablet sector with a whopping 63% of all mobile ad impressions. The Apple iPhone and Apple iPad dominated the top spot for handsets and tablets respectively, throughout all of the regions.
source:
Adfonic
via
PaidContent