Apple surpasses Samsung as the world's largest buyer of MEMS microphones, Siri thankful
2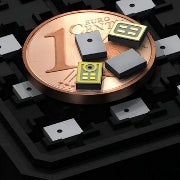 MEMS microphones, where the pressure-sensitive diaphragm is embedded into the silicon chip, which in most cases contains the preamplifier as well, have been a huge hit in mobile devices.
Now IHS iSupply reports that Apple has become the world's largest consumer of MEMS mics, to the tune of 349 million in 2011, a place that was previously occupied by Samsung Electronics, which now holds 20% of the global purchases, compared to Apple's 27%.
The trend to use MEMS started in Cupertino with the iPhone 4, then continued with the iPad 2, and now with the iPhone 4S, which was selling by the boatload during the holiday quarter. The Siri voice-command software in the 4S, for instance, would be hard to function without the MEMS tech.
Apple uses two of those in each phone, and one for the supplied headset, which, multiplied by the many millions it sells, made it the largest single customer of MEMS microphones in the world currently. MEMS microphone revenues in 2012 are said to be $493.5 million this year, up 32% from 2011, according to IHS, due to the increasing number of smartphones and tablets adopting the technology..
via
Digitimes