Apple support claims both new iPhones have scratch-proof sapphire glass displays
33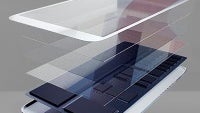 Tim Cook & Crew had a lot of nice things to say about the new iPhones tonight, but there was zero mention of their displays being covered in sapphire glass. The extra-tough material was rumored as a possible extra to the new iPhone, and some even saw its absence as a major disappointment.
But look at this - an anonymous PhoneArena reader sent as an alleged voice recording of his phoning three Apple representatives at 1800-MY-APPLE and asking whether the new iPhones have sapphire-covered displays. At least two Apple representatives on the line - members of the sales team and their supervisors - confirmed that both the iPhone 6 and iPhone 6 Plus feature sapphire-covered, scratch-proof displays. We also heard a representative confirm the iPhones will be up for pre-order this Friday, September 12. Of course, the possibility for a misinformation or a misunderstanding is always there, but the information we've got at the moment seems pretty clear-cut.
The 7-minute voice recording is linked to at the end of the news piece.