Apple still the most popular smartphone maker in the U.S, Android the top platform
66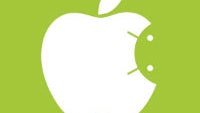 There are multiple ways to measure market share. Some outlets measure advertising impressions, or from surveys, which are not the most accurate measures. Some measure device shipments or sales, which is better, but sales figures can be hard to come by. And, some measure by extrapolating from data gathered by a huge network of tracking software. This last option is the one chosen by comScore, which has new data on how Apple and Android are faring in the U.S..
According to comScore, 163.2 million people in the U.S. own smartphones as of February of this year, which equates to a 68.2% penetration rate. That number is up 7% from the quarter ending in November 2013, but when you drill down, not much has happened in the last quarter. Apple is still the top smartphone manufacturer, up 0.1% to 41.3% of the mobile market. Samsung is still number two, having gained 1% to reach 27% of the market. LG passed Motorola to reach number 3. It almost seems that Samsung has taken that share directly from from HTC, which lost 1% to stay in the number five spot.
Once you add up all of the Android makers, it comes to 52.1% of the market, making the platform number one in the U.S.. No other platforms shifted more than 0.6% (the amount BlackBerry lost), so it's safe to say that things are essentially the same in terms of platforms.
Interestingly, when you take a look at the smartphone app audience numbers, Google Play has become the second most used app, behind only Facebook. The "Apple App Suite" (which includes iTunes, Apple App Store, and Apple Game Center) comes in at number six on the list, just ahead of Gmail and Google Maps. Apple Maps has also reached almost 25% of the mobile audience, which is pretty impressive.