Apple stands no chance without Steve Jobs (poll results)
56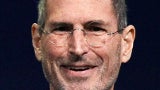 We asked you a few days ago what you think of
Apple's chances for success
(or fail) in the mobile business now that it isn't run by Steve Jobs, and it seems that most of you (69.62%) don't believe that it stands a chance against the competition.
That opinion resonates with what some analysts and entrepreneurs think, including Elon Musk, who's the founder of companies like Tesla and SpaceX. What makes these people think so is that Jobs was an innovator and visionary, whereas the current CEO of Apple, Tim Cook, is more of an operations expert - one who knows how to maximize a company's profits, but doesn't contribute so much when it comes to the products themselves. Meanwhile, analysts see Google's CEO, Larry Page, like a pretty strong figure that will surely lead Google in the right direction.
Still, a significant number of people, about 22.48% of all voters, think that it's still too early to draw such conclusions. We tend to agree, after all, Tim Cook may not be a tech visionary, but let's at least give him a chance! Finally, we have a small percentage of people (7.9%) who believe that Apple is already a well-oiled machine that doesn't need to be told what to do. We've heard such opinions before, and who knows, that might as well be so. Only time will tell!