Will Apple lose the smartphone war without Steve Jobs?
97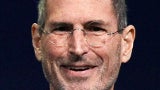 It seems some entrepreneurs and analysts believe that without Steve Jobs guiding the company, Apple will slowly lose the smartphone war to Google. Most of you probably know that Google's Android already commands a much larger share of the market, and has been doing so for quite a while, but the reality is that Apple's still raking in much bigger profits, thanks to its extraordinary profit margins.
Apparently, Elon Musk, founder of companies like Tesla and SpaceX, thinks that this is going to change at some point, "because Jobs is out of the picture". He has also added that "It really makes a difference who runs the company. [Google CEO] Larry Page is quite good and probably in the long run will come out on top."
People are mainly criticizing Apple for the lack of visible innovation these days. While it is regularly updating its iOS platform, a much-anticipated visual overhaul is yet to happen. In addition, users seem to be getting a bit tired of the old user experience concept requiring almost everything to go through iTunes. Even Apple co-founder
Steve Wozniak is among this group of unhappy people
, recently saying that Microsoft's latest efforts might be somewhat more innovative than Apple's. Some are willing to put the blame on Apple's new CEO, Tim Cook, who's proven to be a brilliant operations expert, but not much of a technology innovator.
So let's see what you think about this, then. We've put together a small poll here, so you can just voice you opinion on the matter.
via:
Neowin