Apple sold over 400 million iOS devices, now more than 700,000 apps in App Store
3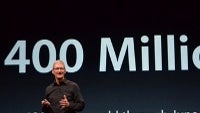 Apple's chief executive Tim Cook is announcing the new iPhone today and while at it, Cook announced that Apple has sold over 400 million iOS devices so far. Not only that, but the application ecosystem is continuing to grow and there are now more than 700,000 applications in the App Store.
While Android has been closing the gap with Google Play, one thing that Apple is clearly ahead with is tablet applications. There are now over 250,000 apps for the iPad available. Impressive.
Most recently, Google announced it has more than 600,000 apps on Google Play as of the end of June. Windows Phone in comparison has only around 100,000 applications.
source: Apple