Apple shares tumble to 15-month low as investors grow concerned over iPhone sales performance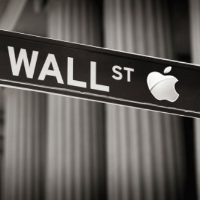 Apple shares plunged more than 4% today - or $4.25 - to $96.45. This is the first time in more than a year that Apple's stock price falls below the $100 mark, and the lowest price for an Apple share since October 16, 2014, when the stock closed at $96.26.
Looking at the share price evolution, it's easy to note a link between the negative performance of Apple shares over the past month and investor concerns over reports of lackluster sales with the
iPhone 6s
series. The most recent - and likely the most credible of these reports - arrived just a couple of days ago when the Nikkei Asian Review claimed that
Apple has cut back production by about 30%
compared to the initial production goals.
In what was probably an attempt to ease concerns, Apple announced today that the
App Store experienced record-breaking sales
during the two weeks leading to the New Year's Day. In this time period, customers spent more than $1.1 billion inside the App Store. Unfortunately for Apple investors, however, it looks like these sales numbers were not enough to turn the ship around.
Apple's first-quarter earnings call is scheduled for January 27. On that date, the manufacturer will officially reveal how many iPhone 6s and 6s Plus units it has sold during the December quarter. While the company is expected to announce year-on-year growth for the December quarter, bearish analysts claim this could have been the last quarter of growth for the iPhone maker.
Looking into the future, multiple analysts have recently claimed that iPhone sales are headed towards YoY decline during the March quarter, which would be a premiere event for the Cupertino tech giant. Some of the setbacks that Apple's iPhone series is currently experiencing are a saturation of the global smartphone market, local currency depreciation in China, as well as the rising popularity of the mid-range smartphone.