Apple shakes up its physical retail locations in the U.S. and U.K.
11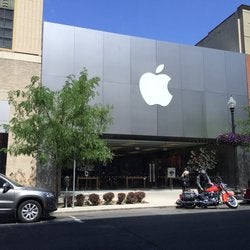 Apple shook up its physical retail locations in the U.S. and U.K. during the weekend by adding new positions and renaming current job titles. It also is changing the names of certain areas of its stores. No longer is the sales floor going to be referred to as the "Red Zone." It is now called the "Product Zone." The back of the store, formerly called the "Back-of-House" will now be known as "Backstage."
Those working in the stores are also going to have new titles. "Back-of-House Specialists" and "Inventory Specialists" are now "Operations Specialists" and "Operations Pros." "Business Specialists" are now "Business Experts."
In the U.S. and U.K., Apple is adding three new positions in its stores. The
Pro
is considered to be the most knowledgeable about Apple devices. These employees are ranked above Expert. Above Creative is a new position called
Creative Expert.
And a
Technical Expert
is a store employee who is able to work on mobile repairs, and troubleshoot software issues on the Apple Watch and other products. With this new position added, wait times for repairs and support should be reduced.
Apple is also renovating stores using the design employed on all new locations opened since the middle of last year, The company has 30 stores open with this design. And just the other day, we told you that
Apple has changed the name of its retail locations
, removing the "Store" part of the name. For example, Apple's flagship store will now be known as "Apple Union Square."
Lastly, Apple's retail credo has been changed. Consider this a "way of life" for Apple's retail employees, with this credo giving them instructions on how to act.
"Enriching lives.

We are here to enrich lives.
To help dreamers become doers,
to help passion expand human potential,
to do the best work of our lives.

AT OUR BEST

We give more than we take.
From the planet,
to the person beside us.
We become a place to belong
where everyone is welcome.
Everyone.

We draw strength from our differences.
From background and perspective
to collaboration and debate.
We are open.

We redefine expectations.
First for ourselves, then for the world.
Because we're a little crazy.
Because "good enough" isn't.
Because what we do says who we are.

We find courage.
To try and to fail,
to learn and to grow,
to figure out what's next,
to imagine the unimaginable,
to do it all over again tomorrow.

AT OUR CORE

We believe our soul is our people.
People who recognize themselves
in each other.
People who shine a spotlight
only to stand outside it.
People who work to leave this world better than they found it.
People who live to enrich lives."-New credo for Apple's retail employees
Apple is hoping that by adding the new positions it improves the shopping experience for U.S. and U.K. customers. If the changes go over well with shoppers in those markets, they could be put into place throughout the remainder of Apple's retail empire.
source:
MacRumors