Apple says "No" to App Store appearance for Danish Android magazine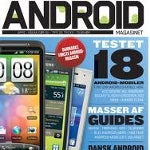 Apple is refusing App Store entry for Danish magazine company Mediaprovider. The publisher wanted to offer an online magazine called Android Magasinet in which the content was focused entirely on the Android OS. It would seem that Apple would probably have liked to see some words printed about the iOS operating system to round out the content.
Not that the Apple App Store isn't home to some other magazines that discuss Android. Netherlands based Androidworld Reader is available to be downloaded to the Apple iPhone and the other iOS devices, and there is Wired's iPad app that has garnered a good following. The difference between those apps and the barred Android Magasinet is in the content. The latter has nothing but stories about Google's open source OS while the other apps have a more rounded editorial focus. This difference is what Android Magasinet editor Brian Dixen cites for the reason as to why his magazine got the bum's rush from Apple. After all, the publisher's iPhone Magasinet magazine had its request for an App Store placement granted without a problem.
source:
MediaWatch