Apple said to use thin-film touch panel in the rumored 7.85" iPad, making it thinner and cheaper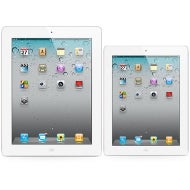 Those
thin-film touch panels speculated to be used in the next iPhone
? Well, secretive industry supply sources claim they are actually to also be used by an upcoming
7.85" iPad Mini
, which might grace this planet in time for the holiday shopping craze, as
the Wall Street Journal already reported
.
The sources even went so far as to name the suppliers of the innovative G/F2 touch panel, which will shave off thickness, and make the display cheaper to boot. Nitto will be making the thin-film materials, while Nissha Printing and TPK will be laminating them in the screens for the iPad Mini. Wintek, which has been a traditional touch components supplier for Cupertino, apparently hasn't built thin-film capacity yet.
The G/F2 design, standing for glass + layer of touch film with the electrodes top and bottom laminated to it, is thinner than the traditional G/F/F design, which puts two layers on top of each other. Thus the eventual 7.85" iPad Mini screen will be cheaper to produce and thinner, adding to the
eventual smaller bezel we heard about before
.
Apple doesn't make nearly as much from the iPad franchise as it makes from the iPhone, especially
now with the expensive "Resolutionary" display on the new iPad
, and it will make even less dough in absolute numbers from an affordable 8" iPad Mini. Thus every little bit to juice up that profit margin helps, considering that it will probably sell many millions more than its larger sibling to compensate, and the screen is the most expensive component in a tablet.