Apple said to reduce component orders in response to weak iPhone 6s sales
99+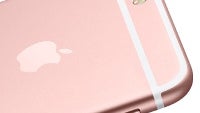 With the iPhone 6s series, Apple has managed to
break the pre-order record set last year
with the iPhone 6 and iPhone 6 Plus, selling 13 million units in the first weekend of commercial availability. However, while it may seem like Apple's new smartphone generation was off to a great start, it looks like some analysts don't believe that the new iPhones are going to sell better than the previous ones.
According to Pacific Crest Securities chip analyst John Vinh, Apple has reduced component orders by about 15% following weaker-than-expected sales in the week following the launch. This information was allegedly obtained from multiple sources within the chip-making industry. Vinh writes that his company now expects Apple to sell about 67 million
iPhone 6s
and
6s Plus
units in the fourth quarter of the year, significantly below the 75-80 million unit shipments that many market analysts predict.
Note that this isn't the first time that we've heard about Apple reducing component orders. A few weeks ago, a report from Digitimes claimed that Apple has revised its Q4 2015 shipping estimates to 65-70 million units, and this new information seems to correlate well. Going back even further to this past summer, multiple analysts suggested that
Apple might experience negative growth
in the smartphone segment with the iPhone 6s generation.
Although some are fairly pessimistic about Apple's Q4 2015 smartphone shipments, others believe that the iPhone 6s lineup will beat the sales record set by the iPhone 6 generation. Morgan Stanley's Katy Huberty says that she expects Apple to report a 7% YoY increase in smartphone shipments in fiscal year 2016, quoting strong iPhone user loyalty and shorter update cycles as the primary drivers for growth.
What do you guys think? Will the iPhone 6s generation be the first S-cycle series doesn't sell better than its predecessor?
Recommended Stories