Apple rumored to drop 16GB iPhone version starting with the iPhone 6S series
63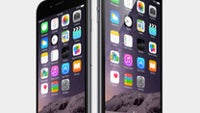 According to unnamed sources quoted by a recent report, the upcoming Apple iPhone 6S series will not be available in a 16GB version, with the base model said to be gifted with 32GB of internal storage.
According to this new report, sources from inside Foxconn - the Taiwan-based company that manufactures Apple's iPhones in China - say that the packaging for the upcoming iPhone 6S and iPhone 6S Plus does not include stickers with "16GB capacity". Allegedly, the stickers are just for 32GB, 64GB, and 128GB.
Over the past year or so, multiple rumors argued that Apple is planning to ditch the 16GB version of the iPhone soon, upgrading the base model to 32GB starting with the iPhone 6S series. Other sources, however, revealed evidence that seems to point out that, at least for the iPhone 6S, the base model will still come with 16GB of internal storage.
Last year's
Apple iPhone 6
and
iPhone 6 Plus
series came with 16GB, 64GB, or 128GB of integrated storage. Despite the fact that Apple seems to be very efficient with the physical size of iOS, it turns out that almost
20% of the internal memory on the 16GB iPhone 6
is taken up by the operating system, leaving the user with about 13GB of available storage. On top of that, apps, videos, and even music, eat up more and more space with each passing year, meaning that the need for a more sizeable base iPhone model is more acute now than ever before.
To put things in perspective, let's take the time to analyze the policy that Samsung - Apple's biggest rival in the smartphone market - has adopted in regard to its flagships in terms of internal storage. For years, the base models of high-end Samsung Galaxy smartphones came with 16GB of integrated storage space, although since they integrated microSD card readers, the need for more storage space on the base models could somehow be satisfied. With the
Galaxy S6
and the
Galaxy S6 edge
, Samsung ditched microSD card support, but updated the base model to 32GB of internal storage. Some argue that, since the base Galaxy S6 models come with 32GB of internal storage, Apple might be pressed to adopt the same measures with the iPhone 6S and 6S Plus.
Until Apple unveils the iPhone 6S series this September, we won't be able to get to the bottom of this, but come the official announcement, it will very interesting to learn if Apple is ready to upgrade the base iPhone model to 32GB. What do you guys think: in 2015, at the rates prices for memory chips have decreased over the past decade, do you guys think that a $649.00 smartphone with no microSD card reader should come with anything less than 32GB?