Apple reveals 12 upcoming emoji for iOS 10; rifle replaced by water gun
17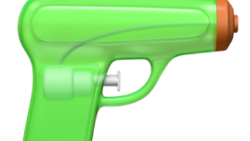 With more than 100 new emoji soon to be available with iOS 10, Apple released images showing 12 of them. These were not picked randomly. Apple chose to show how the next set of emoji is adding athletic women including a female runner, cyclist, weightlifter and basketball player. And it is more than just athletics as Apple displayed a female construction worker wearing a hard hat.
The company is working with the Unicode Consortium, the group of companies that is in charge of standardizing emoji. And besides celebrating the expanded role of women in sports and at work, the emoji also celebrates diversity in other ways, including the addition of a rainbow flag. There are also a couple of family emoji. One shows a mom and her son, while the other shows a dad with his son and daughter.
Apple, Google and Microsoft all helped push Unicode into making a change to the emoji lineup that will be seen in all platforms. Instead of a rifle, the next set of emoji will feature a water gun. The latter even includes the orange barrel that all toy guns are supposed to have in order to differentiate them from the real thing.
Swapping the rifle emoji for the water gun is a good idea because a real gun, as we've all learned, can harm anyone and everyone. A water gun is only deadly to the wicked witch of the west.
source:
Apple