Apple retailers in Europe told to make more iPad space
2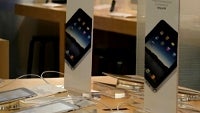 With
September 12 fast approaching
, Apple has asked its European authorized resellers to expand their iPad display space - another hint that it might announce the
elusive iPad Mini
along with the next iPhone.
This request, however, has been in place for about three months, sources say, whereas it just now arrives to the second-tier resellers, and might just aim to reflect the 55% store revenue and 61% unit volume that the iPad represents for Apple there, while getting merely 15% of the display space at hand, so 45% of the stands is the new goal.
One of the resellers confirmed that they are indeed tripling the iPad display amount across stores, and confirmed that September 12 is truly the deadline from Apple to do it.
The Mac Pro and Mac mini are the ones that will suffer from this iPad display space expansion most, as some locations will be entirely removing them from the floor for the big launch. Stands for iPods and associated accessories are also being ditched to make space for the eventual iPad Mini at the stores.
Recommended Stories