Apple releases three new Apple Watch ads that highlight its still questionable usefulness
26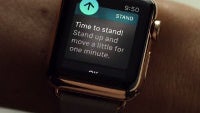 Do you
need
a smartwatch? We've been using them ever since they first came out, and we've got to admit that that's hardly the case. At best, a smartwatch is a style piece that can potentially save you from having to whip out your phone once or twice a day. Hardly a big selling point, is it?
But while we have, nevertheless, remained curious as to the future of smartwatches, it's only now that Apple has entered the space with its Watch that we're actually intrigued. The Apple Watch is significantly more functional out of the gate than rival solutions, and its entry onto the market will likely
help, not hurt,
sales of other makers' smartwatches by raising some much needed awareness for the form factor. To do that, Apple's number one priority right now is convincing everyone that they need a Watch, and that means only one thing: ads.
Three of those debuted on Apple's official YouTube channel, each highlighting one of the three major functions of the Watch – timekeeping, health & fitness, and communication – all of which have a place in our day-to-day comings and goings. Check them out and let us know what you thought – invigorating or bland?