Apple rakes in $200-$400 profit for each iPad sold?
7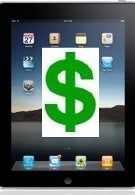 An analyst named Brian Marshall, who works for BroadPoint AmTech, has just completed a report on the Apple iPad. Based on the cost of components, manufacturing costs and warranty repair costs, the entry-level $499 model produces $208 in profit for Apple while the top of the line $829 version more than doubles the profit to $446 per unit sold. Marshall wrote that the 16GB Wi-Fi model costs $270.50 to produce and $20 is the cost to Apple of the warranty. The biggest expense is the 9.7 inch touchscreen which costs $100 according to the analysts estimate. Apple does save a ton of money by using its own in-house A4 1GHz chip which costs about $15 for each one. For Apple, the profit margin on the $499 model is a healthy 42.9%; the other versions of the iPad in the line produce margins of 48% to as much as 55%.
Assuming that the lower cost Wi-Fi only models sell more than the Wi-Fi/3G versions, the entire iPad line should produce a 50% profit margin for Apple. Computerworld points out that these numbers-while they sound high-are perfectly in line with other Apple products. For example. some analysts estimate that the profit margin on the iPhone 3GS is north of 60%. And these numbers can grow for Apple. Once manufacturing ramps up, the cost to produce the tablets will come down which will raise the profit margin until Apple starts dropping the price. But that is in the future. In the here and now, Apple is about to print a lot more money to add to its vault. You can almost imagine Steve Jobs jumping around in the vault, throwing big wads of cash in the air like Scrooge Mc Duck.
source:
TheAppleBlog