Apple projected to make $200 profit on every iPad Pro sold
49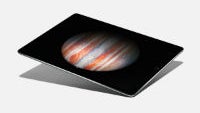 Throughout the lifetime of the rumors, the expectations surrounding the iPad Pro have been quite high, and although the general consensus is that Apple has released nice hardware, the questions around who might realistically want to buy the device have caused launch quarter sales projections to drop by half.
Before the iPad Pro was revealed to the world, sales projections were around 4.5 and 5 million units in the device's first quarter on the market, but have since dropped to the 2.5 to 3 million range. Even so, RBC Capital Markets is estimating that Apple will earn $200 profit on every iPad Pro sold. With RBC projecting closer to the 3 million units sold range, that means $600 million in profit on $2.4 billion in revenue.
We're not quite sure why other sources are trying to compare Apple's 2015 holiday quarter projections to Microsoft's Q4, which happens from May to July. But, for proper comparison, Microsoft reported $1.1 billion in Surface revenue for the 2014 holiday quarter (fiscal Q2 based on Microsoft's calendar). Obviously, quite a bit more sales for Apple expected, but we wouldn't be surprised to see Surface numbers bump up this holiday season as well.
Recommended Stories