Apple prepping a 4" metal iPhone 7c with A9 chipset, tips analyst, to be released in 2016
47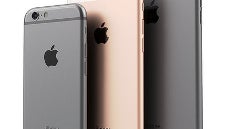 The omnipresent analyst from KGI Securities - Ming-Chi Kuo - has a great track record when it comes to predicting Apple's moves, based on his sources in the broad Asian supply chain of the world's most profitable phone maker.
So far, he has accurately predicted that the rumored new 4" iPhone,
dubbed tentatively the 6c so far
, won't be unveiled together with the iPhone 6s and 6s Plus, but
rather will make an appearance next year
. If you have been following mobile-related news for the past year or so, there has been rampant speculation from many sources that Apple is probing a resurrection of the 4" screen diagonal, just not in the form of the "unapologetically plastic"
iPhone 5c
.
A 4" iPhone 7c would capitalize on latent demand for smaller iPhones
In a note to investors who subscribe to his research, Ming-Chi Kuo has now fleshed out that rumor quite a bit more, saying that a 4" iPhone will be put in mass production in the first half of 2016, likely to be unveiled in the usual fall timeframe, together with the eventual iPhone 7. The iPhone 7c, or whatever it gets named, will apparently be housed in a metal unibody, and sport Apple's current A9 chipset, which at the time of unveiling will be a generation behind the future A10. It's not the first time we are hearing that
Apple's upcoming small iPhone will be crafted out of metal
, too.
This suggests, writes the analyst, that Apple will be positioning the 4" iPhone as a budget alternative, for those who are longing for Apple's small form factor, and there is indeed a lot of potential market there. The budget iPhone theory is corroborated by another tidbit that Ming-Chi Kuo suggests - the future 4" allegedly won't have Apple's new 3D Touch screen technology, to further differentiate it from the iPhone 7 that will eventually be launched at the time. The analyst says that Foxconn will be tasked with the manufacturing of the future iPhone 7c, with the potential to churn out between 20-30 million such 4" handsets in total. Anybody longing for the small 4" form factor?