Apple posts photos taken with the iPhone 7 and its refined camera
36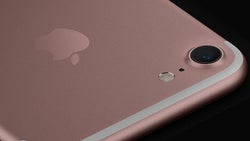 This is it, folks! The iPhone 7 is here and it is looking very, very promising. But if you've had the chance to watch the
livestream of Apple's event
, you're surely aware of that already. You might also know that the new iPhone comes with a refined, 12MP camera, and that happens to be one of its most exciting features.
On the hardware side of things, the resolution of the sensor might not have changed, but improvements to the optical system give the camera greater light-absorption capabilities. The wider aperture of F1.8 lets in 50% more light compared to what the iPhone 6s could capture, while the addition of optical image stabilization allows the camera to set slower shutter speeds. As a result, the iPhone 7 should excel even in tricky light conditions.
Yet that's all theory. Perhaps you'd like to take a look at some real-life photo samples, no? On its website, Apple just posted a set of official images shot with the iPhone 7, and you're free to see them in the gallery below. As expected, they all look splendid, and our expectations for this new shooter are already set pretty high.
The new iPhone 7 is scheduled to launch on September 16, with pre-orders starting on September 9. Getting one will cost you no less than $649.