Apple patent lets iOS users distribute and attend a private concert
27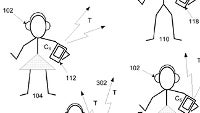 The USPTO has awarded Apple with a patent on Tuesday for "
Coordinated group musical experience
," which allows music to be shared amongst iOS device users connected via a wireless network. The idea is based on something called a "Silent Disco" in which a number of people get together to listen to music being played. But instead of this group listening to the tunes over a loudspeaker, the audience listens via a headphone that each member of the audience is wearing.
The Apple patent, which was filed in March 2010, differs in a big way. Unlike the "Silent Disco" at which everyone is listening to the same song, the Apple patent allows each listener's device to detect characteristics of the song being played by the DJ, such as tempo, and tries to match it up with the library of tunes stored on each listener's device. This means that two iOS device users attending the same concert could end up hearing different songs. Unlike "Mobile Clubbing," where each participant is in the same geographic area, Apple's patent allows for users to be hundreds or thousands of miles away as long as they are connected on a wireless network.
The member of the group who is playing the songs,known as the "roving DJ" is also passing along digital information about the tune to be sent out to the group, such as the number of beats per minute. None-musical information can be sent out such as avatars. In some situations, the "roving DJ" can be rotated among participants. And the app running the whole experience, which can be downloaded from the Apple App Store when available, can adjust the tempo of a song while it is playing in order to meet the beats per minute of the song being played by the DJ.
source: USPTO