Apple paves the MFi way for cheaper USB-C to Lightning and direct audio jack cables
10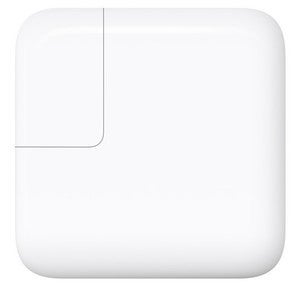 Apple's $49 fast-charger
While Apple's
iPhone 8
,
8 Plus
and
X
have fast charging circuitry built in, they ship with regular chargers that take more than two hours to top up an iPhone 8, for example, or three for the iPhone X, as you can see in out testing video above. Apple does offer a fast 29W USB-C Power Adapter that will load your iPhone to 50% in 30 minutes flat, but that one will cost you $49 extra.
Still, Apple does give you other options, as it lists on its official support pages that the fast-charging functionality of the new iPhones is certainly accessible by plugging in certain third-party USB Power Delivery (USB-PD) adapters, and combining them with an "Apple USB-C to Lightning" cable (sold separately for $25 or $35, depending on the length). That one, unfortunately, is the only one certified for the task still.

All of this is about to change, though, as, in addition to "comparable" USB-PD chargers, as you can see in Apple's support pages snapshot below, users may soon be able to purchase USB-C to Lightning cables made by third-party manufactures (read: cheaper). Apple has expanded its Made for iPhone (MFi) certification program to now include specifications for USB-C ports, as well as a Lightning to 3.5mm output cable.
Thus, as soon as popular Apple accessory makers license their wares, we might be able to buy a cheaper USB-C to Lightning cable to pair with, say, Anker's USB-PD adapter that costs half of what Apple charges for its own. Currently, the price for an original fast charging setup directly from Apple is $75 with the shorter cable, while in the future you might be able to top up your iPhone X quickly for half that price.
As for the Lightning to standard audio jack cable, it will save you having to plug in the extra adapter that Apple includes in the iPhones' boxes ever since it ditched the jack, and plug a Lightning cable from the iPhone directly in whatever audio gear you have that demands a 3.5mm input. Svelte.