Apple now has the cash to buy the whole cell phone industry save for Samsung
57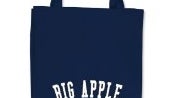 You might have already heard that Apple has $82 billions in cash, more than the US government, and more than any other company. Interestingly, it's also growing and is currently more than the combined value of a couple of phone makers, but
is that enough for Apple to buy the whole industry?
Horace Dediu of Asymco asks the question by comparing Apple's liquid assets to the combined enterprise value of major electronics companies.
And the answer to that big question is
"no,"
but if you put Apple's biggest competitor Samsung out of the equation this quickly changes into a
"yes."
The graph below shows how company's enterprise values have changed from Q2 to Q3, and it presents an interesting bird eye's view on how volatile this perception has turned out to be in the past six months or so. Apple has steadily grown its cash assets from $70 billion to the whopping $82 billion remaining the biggest firm in the industry, but what's even more impressive is the huge leap in Samsung's EV which grew by $25 billion to $78 billion.
Enterprise value
is considered to be a measure reflecting the possible sum needed to acquire a company. It's calculated by taking the market cap of a firm then adding its debt, and finally subtracting its cash assets.
A couple of events including Google's acquisition of Motorola Mobility and Sony's deal to buy Ericsson's stake out of Sony Ericsson, showed the EV of those companies recently. Nokia has also nearly halved its EV in the period. Overall, however the EV of the majority of phone makers has dropped sharply in the last quarter with Samsung, Apple and Motorola basically being the only exceptions. Not very heartwarming observation, is it? Do you think that this trend will continue, or could the future reverse it? Let us know in the comments below.