Apple marketing head Phil Schiller explains why iPhone 5 has no NFC or wireless charging, but a new connector
49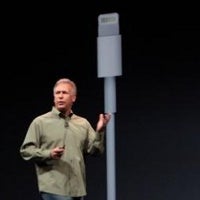 The Apple iPhone 5 is here and it brings little surprises except for a possibly much more capable processor than expected. And that's not a small thing, but with all the leaks many hoped that the new iPhone will come with a secret exciting features to bring morals higher.
After all devices like the Samsung Galaxy S III and the Nokia Lumia 920 come with "cool" features like NFC and
wireless charging
. Apple has considered adding those, but decided against both. Instead, it went with a new 8-pin Lightning connector, replacing the old and big 30-pin connector.
Why? Apple's marketing chief Phil Schiller explained by simply saying that
it's not clear that NFC is the solution to any current problem
. NFC standing for near-field communications is a technology best known for allowing payments from your mobile, but also other things like easier pairing with accessories.
The Passbook app in iOS 6 was seen as a perfect fit for NFC, but Schiller noted it works great without the chip.
"Passbook does the kinds of things customers need today,"
Schiller explained.
Wireless charging might sound cool at first, but you still need to plug in the surface where you'd be wirelessly charging, so Apple's mareting head explained that the benefits of that are also not very clear after all. USB on the other hand is much more versatile and ubiquitous - it's everywhere from planes to wall chargers.
"Having to create another device you have to plug into the wall

is actually, for most situations, more complicated

,"
Schiller said.
Finally, the new Lightning connector comes from necessity. It wouldn't have been possible to build the thin and light iPhone 5 with the old connector. At the same time, don't expect a change in standards anytime soon.
"This is the new connector for many years to come,"
Schiller said.
Overall, this shows Apple's long commitment to thinner and lighter devices, something that should continue in future iPhones and possible the iPad.
source:
AllThingsD