Apple makes it easier for developers to report ripoffs
19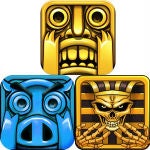 Apple has been trying to crack down on
app clones
for a long time now, so if users want to get Angry Birds or Fruit Ninja, they won't accidentally get Anarchy Birds or Fruit Slice instead. The newest tactic is putting the power (and responsibility) in the hands of the developers. The idea is actually to take Apple out of the equation as much as possible.
Apple has built a new tool which will hopefully leave Apple as nothing more than an intermediary to disputes. The new "iTunes Content Dispute" tool isn't just for apps, and can be used for any iTunes content. If you think someone has infringed on your copyrighted material, you can put in a request, which will be passed along to Apple's legal team, then to the accused party. At that point, Apple steps back to allow the two sides to sort it out.
There are reference numbers in order to track communication, in case things escalate to needing real legal intervention. Overall, it seems like a good tool, and one that Google may want to install for Android. Google has also been working to
crack down
on ripoff apps, but more could certainly be done.