Apple makes changes to the App Store, gives developers a larger share of the take
30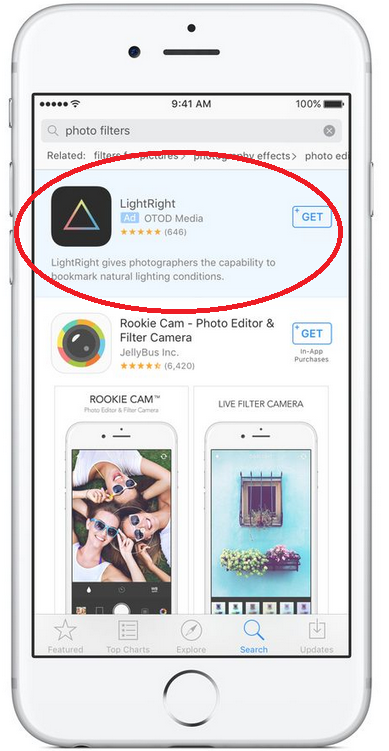 Search results in the App Store will now show ads for other apps
Yesterday, Apple announced some changes to the App Store that will allow developers to advertise their apps in search results. Currently, with 1.9 million apps in the App Store and 14,000 new ones added each week, it is hard for a particular app to stand out. Therefore, Apple is doing the right thing in allowing developers to post these search result ads. Otherwise, it would be extremely hard for both new and older apps to get noticed in this crowd.
The top 1% of apps accounted for 94% of the App Store's estimated revenue of $1.43 billion in the first quarter. According to app analytical firm Sensor Tower, that percentage has risen from the 80% of App Store revenue produced by the top 1% of apps back in July 2012. That means that iOS users are having a hard time discovering apps outside of the most popular ones.
During the conference call for Apple's fiscal second quarter earnings, CEO Tim Cook said that for the period, App Store revenues were up 35% year-over-year. With iDevice sales beginning to slow down, Apple is counting on the App Store to provide the company with much needed revenue boosts.
In addition, while Apple will still take its 30% cut of paid app revenue, in the case of a customer who has maintained a subscription with a developer for longer than a year, Apple's take will drop to 15%. And in a big change, Apple will now allow all categories of apps to sell subscriptions, including games. Previously, subscriptions could be offered only by news apps, apps related to cloud services, dating apps, and audio/video streaming apps.
Developers still want some other changes such as the right to offer free app trials, and to include paid updates. Phil Schiller, who has been running the App Store since December, says that Apple looks at everything. The executive says that the company is making decisions on what changes produce a better experience for Apple customers.
source:
Reuters
via
TheVerge
Recommended Stories