Apple kills the skeuomorphism in iOS Podcasts app
2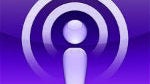 If there's anything that Apple has loved with iOS design, it has been skeuomorphism, aka recreating distinctly non-digital things - woodgrain, bookshelves, tape reels, etc - in a digital platform. We've heard rumors that Apple is looking into a redesign of iOS, and maybe the Podcasts app is the first step in that, because Apple has updated the app to remove the skeuomorphism.
The update ditches the old tape deck inspired design for a simpler design that features podcast art instead. Overall, the design has been simplified, and there are a couple of new features as well. There is a new option to create custom stations where podcasts will automatically be updated. Stations backup to iCloud and sync to all of your devices. There is also an option for on-the-go playlists, and syncing playlists from iTunes.
Of course, the iOS Podcasts app is one of the worst rated Apple apps available, and there's no guarantee that this update fixes the worst of the issues. There are bug fixes, and the generic performance updates to look forward to. If you want to give it a shot, the Podcasts app is available for free in the
iTunes App Store
.