'Apple is in big trouble,' tech expert holding an iPhone says
64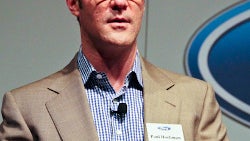 Apple might be the second-largest company in the world with a
market cap
of over $300 billion, but if you take the words of NBC's Today Show Gear and Technology editor, Paul Hochman, it's in serious trouble.
Hochman, holding an iPhone, spoke at the Forward with Ford Futuring and Trends Conference:
"Apple's in big trouble. They're sitting on piles of cash, but they are sitting on a closed system. In biology, in history, a closed system never survives."
At the same time, he lavished praise on
Ford
for picking an
open system
, one which allows an external device like both an iOS or Android one for communication and even apps. Conversely, General Motors which opted for a closed system doesn't allow upgrade of the hardware locking you down into using the same device even when it fades out of relevance after a couple of years. This argument certainly holds ground as the lifespan of a car is usually much longer than the one of a phone, but do you agree with Hochman's comments on Apple? Feel free to voice your opinion in the comments below.
Recommended Stories