Apple is a luxury company, but not for the $449 AirTag Hermès pricing
13
This article may contain personal views and opinion from the author.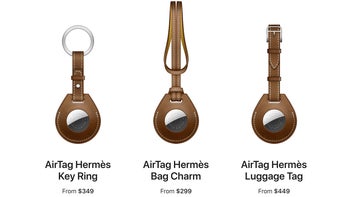 No, this won't be a rant about how overpriced Apple products are, although the company sells its fair share of eyebrow-raisers like the Mac Pro's $699 Wheel Kit. It's trying to find the reason why Apple product buyers behave as if it's a luxury company even though it ostensibly isn't Gucci, Ferrari, or, yes, Hermès.
That's the very definition of a luxury brand, to the extent that Apple is the most valuable company even though it is, on the face of it, just selling consumer electronics, a business that traditionally comes with razor-thin margins.
How does Apple do it?
We recently came across an ad where a girl was selling her
Galaxy S21 Ultra
, casually listing the reason for the sale as an "upgrade to iPhone." Say what?
The green Android's blood started boiling as there is barely a phone more camera-, display-, or battery-capable than the S21 Ultra, yet in the user's mind a move to an iPhone, with its paltry display refresh rate, walled-up app garden, and so-so camera specs, was considered an upgrade. How did Apple products manage to become such a status symbol?
Emotional attachment

: Steve Jobs made sure to sell people an entry to an exclusive world with cult-like secrecy around its inner workings. Heck, it took the iPad Pro 2021 for Apple to cite how much RAM it has inside!

Brand clout

: Apple is the most successful brand in the world's most visible and marketing-heavy market. If your country had a company like Apple, would you still buy iPhones instead? It's a self-fulfilling patriotic prophecy in the world's most media-covered market, for better or worse, and half of the US users now carry iPhones, amplifying its message further.

Quality user-centric products and ecosystem synergy

: Steve Jobs was not the first to put a computer in your pocket but he made it easy to use and Apple kept adding to the ecosystem of such 'it just works' products with focus on design, software, and performance, mostly with success so far.
To wit, Apple gets away with selling midrangers at high-end prices because it has created an aura around its name commensurate with what traditional French or Italian luxury fashion brands have done, but that's just a part of it.
What do you think is the reason behind Apple's luxury goods status hence pricing is - status, quality, brand visibility, device synergy, all of the above, something else?
Recommended Stories