Apple investing $10.5 billion on unique machinery to serve Jony Ive's design team visions
35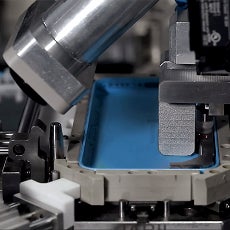 Apple is no stranger to actually inventing machines to suit the vision of Jony Ive's team, rather than the other way around. It made its own granite-based tool for measuring the motion sensor tech in its iPhones, as well as a process for laminating the display package to the cover glass, thus making devices thinner. Its engineers also developed mass application of a way to make anti-reflection coating particles stick to the screen with an electric charge - a process used before in medical equipment and telescope building, but never on a grand scale.
Now Apple is putting some of its cash pile to good use, Bloomberg reports, planning to invest $10.5 billion in more top-shelf manufacturing equipment for its current and future iPhones. The robots and precision milling, carving, polishing, and camera testing machines are to be situated at Apple's assemblers, but remain an exclusive property of Cupertino.
This could mean that Apple is both trying to secure competitive advantage for its manufacturing process going forward, buying out the most advanced production machinery out there, and at the same time aiming to exert more direct control over its manufacturing chain, whose relentless pursuit of thinning margins often results in
stories of exploitation and worker suffering
, that no doubt affect Apple's image.
As per an analyst with Frost & Sullivan, who has dedicated some research on the tools of Apple's design trade: "
Their designs are so unique that you have to have a very unique manufacturing process to make it. Apple has so much cash that they can invest in cutting-edge, world-class machinery that is typically used for aerospace and defense
."
In any case, $10.5 billion can buy a lot of NASA-grade equipment, so we are eager to find out about the designs that will come out of Cupertino, made possible by these machines.