Apple intros "Free App of the Week"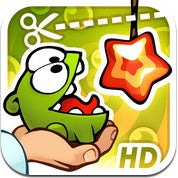 The official App Store Twitter account sent out an interesting tweet earlier today. It invited everyone to go to the App Store to download Cut the Rope: Experiments for free and accompanied the announcement with the hash tag #FreeAppoftheWeek.
Interestingly, this is the first time we've seen a promotion such as this and it will be interesting to see if this is something that will continue each week going forward. The idea itself is
revolutionary
very much like the free App of the Day Amazon offers for its Android app store, but, hey, who doesn't like getting paid apps for free?